Purrfect Playmates Lemon Sherbet 3 Piece Set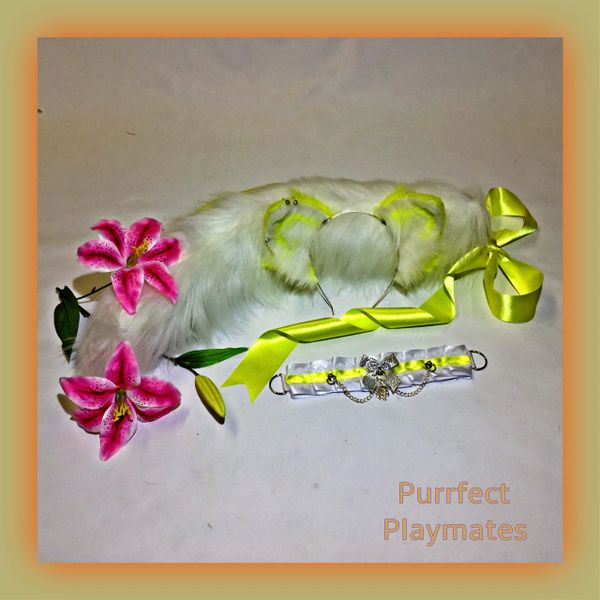 Purrfect Playmates Lemon Sherbet 3 Piece Set
Purrfect Playmates Lemon Sherbet 3 Piece Set
Set includes.
Ice white tail made from our luxury three inch faux fur with a lemon double satin ribbon.
The tail is lightly stuffed and has a strong webbing tab sewn in to enable you to change the ribbon or attach a safety pin which will also be included.
Purrfect Playmates Lemon Sherbet Ears
These hand crafted ears are lovingly made by us,
The ears are coloured by airbrushing techniques making each pair slightly different and unique to you.
This pair comes complete with cute ring piercings.
These hand crafted ears are lovingly made by us and discreetly grip onto the headband which are supplied with the ears.
 They are fully wired, posable & move up & down on the headband.
The ears are made using the exact fur as our tails and so match purrfectly.
Purrfect Playmates Pleated Unicorn Collar with Silver Bow and Chains.
Pleated satin ribbon in pure white bound in pretty lace and lemon ribbon, finished with silver coloured D rings and a stunning metal unicorn charm. 
The collar is detailed with metal chains hanging from solid O rings.
This is a medium length collar with a generous depth of ribbon.  It is finished with a lemon ribbon tie to make it fully adjustable. 
Items will be carefully and discreetly packaged with a hand written label and no company markings.
This item is beautiful quality and would make an excellent gift for a loved one or treat yourself.
Many Thanks Purrfect Playmates